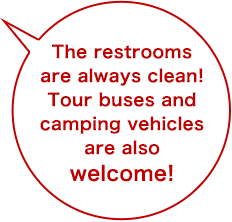 What is a roadside station
(michi no eki)

?

Though called a station, it is not a railway station. A roadside station is a facility that serves the triple functions of being a rest area, communicating information, and providing regional collaboration. Roadside Station Adachi offers souvenirs from the city of Nihonmatsu in Fukushima prefecture, Japanese food, Western food, Chinese food, regional dishes, sweets, a bakery, a convenience store, and Japanese papermaking.
Parking is free. Enjoy spending a few minutes or a few hours here.